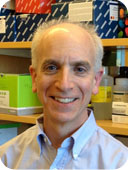 Fred Marshall Winston, Ph.D.
John Emory Andrus Professor of Genetics
A critical step in eukaryotic gene regulation is the control of transcription across the chromatin template. While transcription has been extensively studied for many years, there are still many mysteries regarding its function and regulation. Furthermore, in humans, when transcription is aberrant, it can often lead to different diseases, including cancer. Transcription was once thought to occur primarily over open reading frames to produce mRNAs. However, it is now known to be pervasive, also occurring on antisense strands and in intergenic regions. While some of this transcription has been shown to play regulatory roles, the function of most transcription is poorly understood.
Our lab studies eukaryotic transcription and chromatin structure using yeast as a model system. Yeast is an excellent model system, as there is extensive conservation between yeast and humans. In addition, by studying yeast one can use powerful genetic approaches that are not possible in larger eukaryotes. For example, high-resolution genetic screens and selections can be performed to study any aspect of gene regulation. In addition, any desired DNA sequence changes can be made in the yeast genome and its consequences analyzed, allowing rigorous in vivo analysis. Furthermore, the small yeast genome facilitates many types of genome-wide, deep-sequencing approaches, including those used to measure mRNA levels (RNA-seq), nucleosome positions (MNase-seq), and the binding of transcription factors (ChIP-seq). The small genome size of yeast, coupled with the ability to make genomic changes, also allows the study and elucidation of complex traits. Finally, as unicellular eukaryotes, yeast cells are valuable for the biochemical analysis of protein complexes and post-translational modifications.