Howard Hughes Medical Institute names three HMS postdocs as Hanna Gray Fellows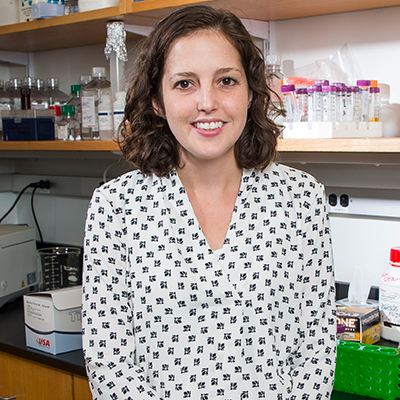 On Sept. 19, the Howard Hughes Medical Institute (HHMI) announced the selection of 15 exceptional early career scientists, including three from Harvard Medical School, as the first group of HHMI Hanna Gray Fellows.
Each fellow will receive up to $1.4 million in funding over eight years, with mentoring and active involvement within the HHMI community. In this two-phase program, each fellow will be supported from early postdoctoral training through several years of a tenure-track faculty position.
"Being a Hanna Gray Fellow is going to provide me support through what can be quite a hard transition. From postdoctoral researcher, which I am right now, towards starting my own lab and actually becoming a principal investigator," said new fellow Yvette Fisher, a postdoctoral researcher in the lab of Rachel Wilson, the Martin Family Professor of Basic Research in the Field of Neurobiology at HMS.
The program seeks to encourage talented early career scientists who have the potential to become leaders in academic research. In particular, it aims to recruit and retain emerging scientists who are from gender, racial, ethnic and other groups underrepresented in the life sciences, including those from disadvantaged backgrounds.
The three HMS Hanna Gray Fellows, and a brief description of their research interests, are: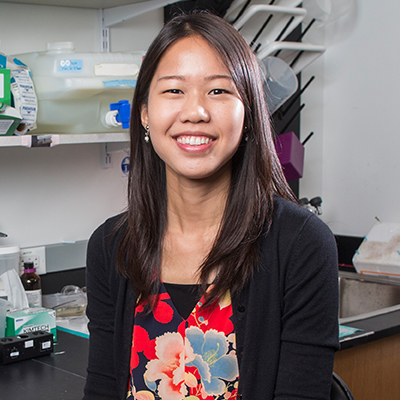 Lynne Chantranupong, research fellow in neurobiologyMentor: Bernardo Sabatini, the Alice and Rodman W. Moorhead III Professor of Neurobiology
Lynne Chantranupong knows how to get cells to spill their secrets. She has characterized key regulators of a signaling pathway that tells cells to grow, elucidating a process that goes awry in cancer and diabetes. Now, she is setting her sights on the brain. Chantranupong plans to isolate intracellular packets that contain neurotransmitters, signaling molecules that carry messages between nerve cells. She wants to probe the contents of these packets using mass spectrometry. This high-resolution method promises to reveal a complex and dynamic atlas of neurotransmitters in the brain.   Image: Scott Eisen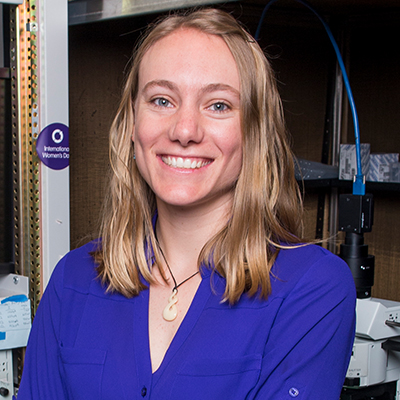 Yvette Fisher, research fellow in neurobiology
Mentor: Rachel Wilson, the Martin Family Professor of Basic Research in the Field of Neurobiology
Yvette Fisher is investigating how nerve cells in the brain perform the myriad computations that underlie perception and behavior. She is particularly interested in the role of voltage-gated ion channels, which regulate the flow of ions in and out of a cell. Fisher is exploring the dynamic interactions between these channels in the fruit fly by examining their activity in cells that may help the fly navigate using visual cues. Image: Scott Eisen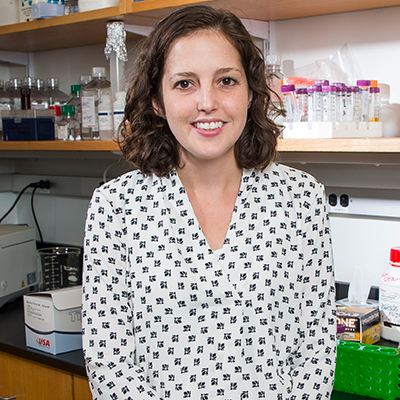 Molly Schumer, research fellow in genetics
Mentor: David Reich, professor of genetics
Biologists once thought that hybridization between species was rare and an evolutionary dead end. But recent advances in genomics have revealed that closely related species frequently exchange genes and pass them on to future generations. Molly Schumer wants to understand how these instances of hybridization shape the evolution of genomes and species. Combining work in the lab and from the field, she is building an understanding of factors that influence hybrid ancestry in the genome. Image: Scott Eisen 
"I'm excited about this program because I think it will have a positive impact on science," said HHMI President Erin O'Shea. "We have so many challenges in keeping the best people from diverse groups in the professoriate. But I think this program can drive real change in academia and have a catalytic effect on the next generation of students."
The Hanna Gray Fellows program will support early career scientists like Chantranupong, Fisher and Schumer at critical transitions in their academic careers. In keeping with HHMI's long-standing approach to support "people, not projects," fellows will have flexibility to change research focus and follow their curiosity during the duration of the award.
A competition for the next group of Hanna Gray Fellows opens immediately. Applicants may obtain more information and eligibility requirements here.
A full list of 2017 Hanna Gray Fellows can be viewed here.
Article originally appeared on the HMS News Website on September 21, 2017