McCarroll Named Flier Associate Professor
Title commends genetics researcher, honors former dean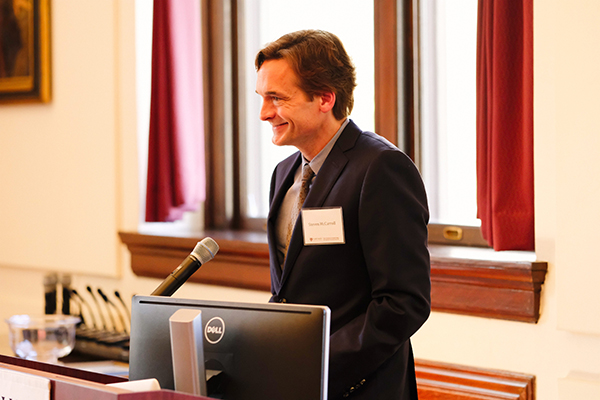 Harvard Medical School faculty, staff and trainees packed the Waterhouse Room in Gordon Hall on June 7 to honor former dean Jeffrey S. Flier and raise a glass to genetics researcher Steven McCarroll.
The cause for celebration: the activation of the Dorothy and Milton Flier Professorship in Biomedical Science, currently named for Flier's parents, and the installation of McCarroll as its inaugural incumbent.
The professorship—made possible by gifts from members of the HMS Board of Fellows—was created in 2016 in recognition of Flier's nine-year tenure as dean. It will be renamed in honor of Flier when he retires from HMS.
"When I was told about a year ago that the Board of Fellows would fund a professorship that would ultimately bear my name, I was thrilled and speechless," said Flier, who is now a Harvard University Distinguished Service Professor and the George Higginson Professor of Physiology and Medicine at HMS.
Establishing the professorship and selecting its first recipient "is truly one of the most satisfying events of my professional career," Flier said.
Calling the professorship a "fitting tribute" to Flier's service, HMS Dean George Q. Daley said that "the Board of Fellows is ensuring that all of the chair's incumbents will be performing research in a basic science department at Harvard Medical School with the potential to lead to the discovery of the cause or treatment of a major disease."
McCarroll likewise thanked the Board of Fellows for making the gift and "for what's implicitly reflected in that gift, which is support of basic and translational science at HMS, support of training and mentorship and all the things that make this place lively."
Honoring Quad science
Flier said he felt strongly that the professorship should go to Quad faculty members who conduct biomedical science that could improve understanding of the root causes of disease or lead to new treatments.
"Many great discoveries that will ultimately have enormous impact on disease may not be seen as having those impacts at the time they're made. I'm fully aware of that fact, which is why we want to fund and carry out fundamental research," Flier said. "But I'm proud that the importance of the connection between fundamental research and disease is made explicit through this professorship."
He said he knew immediately that he wanted McCarroll to be the first recipient.
"It was evident right from the beginning that he was a brilliant choice," Flier said, recalling the decision to hire McCarroll in 2009. "His work is at the same time fundamental and applied, deep and broad; his training has been interdisciplinary, his approaches inclusive and collaborative; and his discoveries most assuredly will impact human disease in the future. He's precisely what I had in mind as the first incumbent of this professorship."
Advancing human genetics
McCarroll works to develop ways to use genetics to better understand human biology and disease.
"There's never been a more exciting time or place to pursue this kind of research," he said.
"Steve has excelled not only in his initial forays into figuring out what genes are involved in human disease and biomedicine, but also in technological development that pushes forward the world of science," said Robert Kingston, professor of genetics and vice chair of the Department of Genetics at HMS, who spoke on behalf of department chair Cliff Tabin.
One of McCarroll's research aims is to discover genetic risk factors and understand how they give rise to key molecular and cellular events in the development of schizophrenia and bipolar disorder. He and colleagues recently revealed a role for a protein called complement component 4 in schizophrenia, opening a window into understanding the disease's biological mechanisms. In addition to identifying a specific gene, the team uncovered evidence that suggests it impacts developmental processes, including cortical maturation and synaptic pruning, said Kingston.
The discovery was "arguably one of the most important things—perhaps the most important thing—that has been done molecularly in schizophrenia," Kingston said.
McCarroll's lab also developed Drop-seq, a high-throughput single-cell technology that can analyze tens of thousands of individual cells at once. Lab members are using the approach to understand brain function and dysfunction in terms of the behavior of individual cells. The Drop-seq protocol, which the lab made freely available to researchers worldwide, has been downloaded more than 40,000 times.
McCarroll emphasized the leading role of trainees in these and other high-profile projects in his lab.
"The thing that makes this job such a pleasure are the students, postdocs and residents who come in," he said. "It makes your world go 'round to interact with them from week to week and help them solve problems and plan projects."
McCarroll reminisced about being periodically invited to Flier's office to discuss papers published by McCarroll's lab. Their conversations ranged from the scientific process to the aspirations of the students and postdocs involved in the work, he said.
"I was always very touched by Jeff's commitment not just to the science at the medical school but also to the people who were getting their training," McCarroll said.
'A fitting tribute'
Flier also spoke about his parents, Dorothy and Milton, born in New York City to immigrants from what is now Belarus. After serving as an Air Force pilot in World War II, Milton took a job in the fur business owned by Dorothy's family. The two were set up on a blind date and soon married. Dorothy graduated from Hunter College with a degree in accounting; after raising their two sons, she became a math teacher. The couple moved to Boston after they retired to be near their children. Milton, whose lifelong passion for drawing and painting had been derailed by the Great Depression, earned a fine arts degree at age 73.
"I'm deeply proud that Dorothy and Milton Flier are being recognized by this professorship at Harvard Medical School," Flier said.
Flier closed by thanking his wife, Terry Maratos-Flier, HMS professor of medicine at Beth Israel Deaconess Medical Center. "A piece of the Dorothy and Milton Flier Professorship belongs to her," he said.
Jack Rowe, chair of the Board of Fellows, noted that the gift organizers were flooded with so many contributions in Flier's honor that they were also able to fund a need-based scholarship for HMS students. Flier named it after diabetes researcher Jesse Roth, his mentor at the National Institutes of Health.
By Stephanie Dutchen. 
Article originally appeared in the HMS News